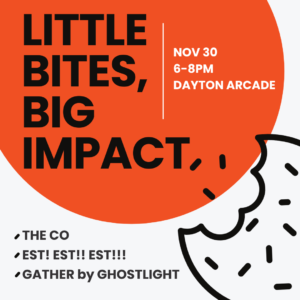 THURSDAY, NOVEMBER 30
6:00pm – 8:00pm
We're teaming up with our neighbors, Gather by Ghostlight and Est! Est!! Est!!! as we warmly invite you to Little Bites, Big Impact.
Sample scrumptious, specially crafted noshings from all three locations.
With each bite, you'll be celebrating and directly supporting our thriving local small businesses within the historic Dayton Arcade as we work to make a significant impact on our community!
It'll be an evening of delicious fun and an easy way to support local during the holiday season. Join us on Nov 30, where little bites will make a big impact!



Feast your senses on an array of appetizing nibbles from Gather by Ghostlight, Est! Est!! Est!!!, and The Contemporary. All located within the Dayton Arcade, each spot will offer small bites, letting you sample an assortment of delicious flavors.
Hungry for more than a selection of little bites? Plan to eat a hearty artisanal pizza and pasta dinner at Dayton's newest foodie destination, Est! Est!! Est!!!
In between eating and mingling, please browse our vibrant holiday market featuring many locally made goods, unique gifts, artisan products, and so much more. Here, you'll get the opportunity to support The Contemporary's incredible selection of giftables while getting your holiday shopping done early.
Stay after Little Bites, Big Impact, and enjoy a cocktail and great music at Gather by Ghostlight.