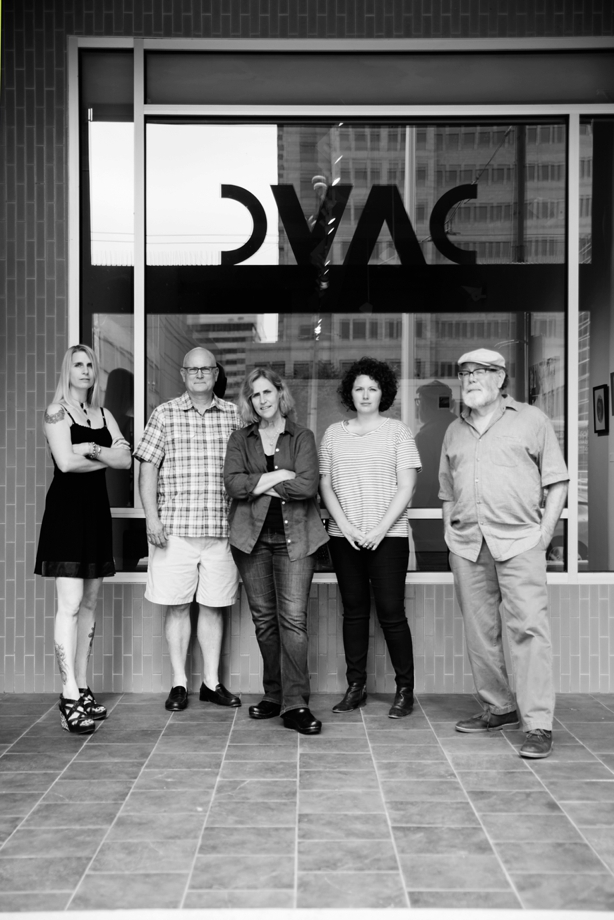 Five of the six CSA artists, photographed by Briana Snyder, Jun 2016
6 artists commissioned to create new work:
Amy Kollar Anderson
Douglas Fiely
Paula Willmot Kraus
MANDEM
Brooke Medlin 
Joel Whitaker
6 original, signed works
50 shareholders
$650 per share
1 Harvest Party:
August 9, 2016 at the Dayton Beer Company
The images you see below are not the artworks CSA shareholders will receive – they are just examples of the types of work these artists create and are representative of what shareholders can expect. Each piece will be no smaller than 4×6 inches and no larger than 11×14 inches. Each work will be signed and editioned by the artist. Shareholders will receive all six works at the Harvest Party.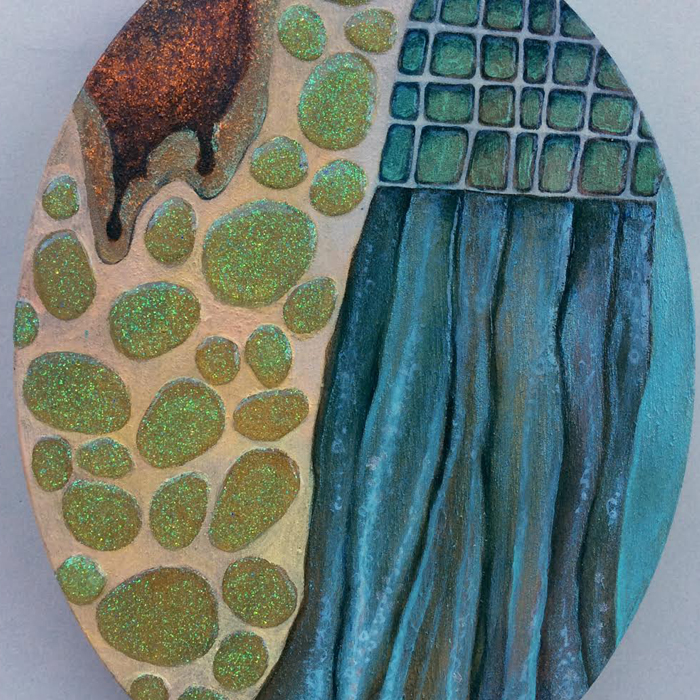 Amy will be creating a limited edition of mica and Liquitex paintings.
Amy Kollar Anderson creates surreal narrative paintings inspired by natural forms and decorative arts. Her work has been exhibited throughout the region and internationally and she recently was awarded three commissions for the Dayton Public Library.
Amy received her BFA from The School of the Art Institute of Chicago and went on to receive a Master of Humanities, with a focus in Fine Arts, at Wright State University. She lives with her husband in Dayton and until recently, was the Gallery Coordinator for Rosewood Gallery, Kettering before she left that position to pursue her art career full-time.
She refers to her painting style as "Nouveaudelia," incorporating Psychedelic Art and Art Nouveau aesthetics. Her current series includes the process of overlapping realistic forms and decorative design elements, then combining them with untraditional paint and material choices, such as metallic or interference colors and glitter. For more on this artist, see www.kollaranderson.com.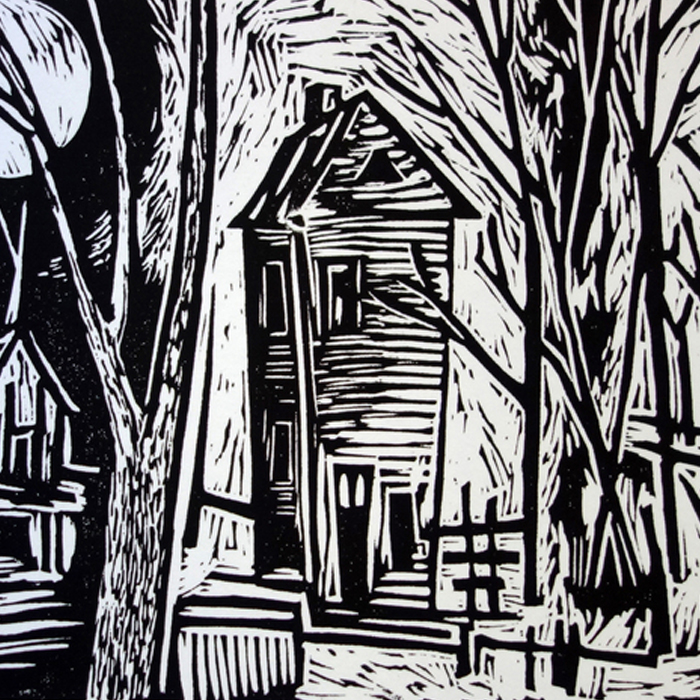 Doug will be creating a limited edition wood engraving on paper.
Doug Fiely was raised on the shores of Grand Lake in Celina, OH where he attended elementary and high school. The imagery that surrounded him during his Catholic school years captivated his attention, and he began to draw. In 1964, he was given a guitar which opened the door to both the visual and performing arts. In 1968, he enrolled in Bowling Green State University, and soon he became enamored with the process of printmaking. The odor of the ink, along with intricacies of the printing process, provided a nostalgic connection with the Evening Leader newspaper in St. Marys, OH where his family ran a daily newspaper and printing company.
He soon transferred his printmaking skills to canvas, and began to work in both the painting and printmaking arenas. Upon graduation from Bowling Green, he completed a master's degree in printmaking while teaching in northern Ohio. He found the rural subject matter of chickens, landscapes, and barns a wonderful complement to the fish and water scenes of his youth. That guitar given to him in 1964 served him well as he spent many weekends and evenings playing rock 'n roll in Ohio, Indiana, and Michigan. For over 40 years, he raised chickens, goats, turkeys, and children while teaching at Stryker Local Schools. Upon retirement, he was asked to teach Printmaking, Painting, Drawing, Art History, Figure Drawing, Color and Design, Global Civilization and even the "History of Rock 'n Roll", retiring in 2013 as Professor Emeritus from Defiance College. For more on this artist, see www.fielyarts.com.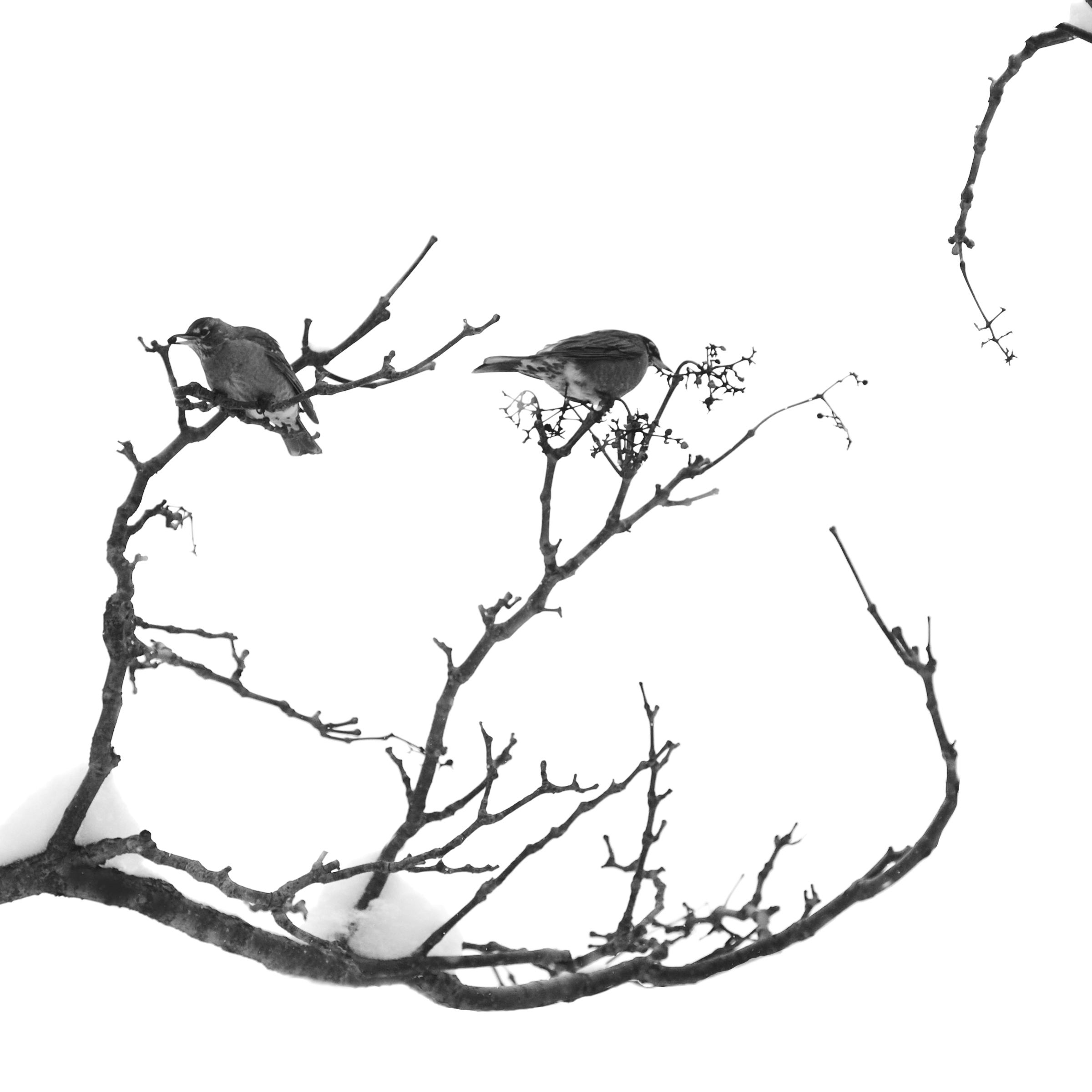 Paula will be creating a limited edition original photograph digitally printed on rice paper with encaustic.
Paula Willmot Kraus teaches photography at Wright State University and Stivers School for the Arts. Her work has been exhibited throughout the region and her largest project is a 96-foot-long by 4-foot-tall black and white photograph that will be permanently displayed in the renovated Dayton Metro Library in late 2016.
Of her series "Under an Ohio Sky" she says she is especially drawn to scenes where the movement can extend over the expanse of space; how the movement can take up again across that space as if transferred by a breeze; how every action has an opposite but equal reaction; how energy is maintained; how the energy – the chi – remains constant. For more on this artist see www.paulawillmotkraus.com.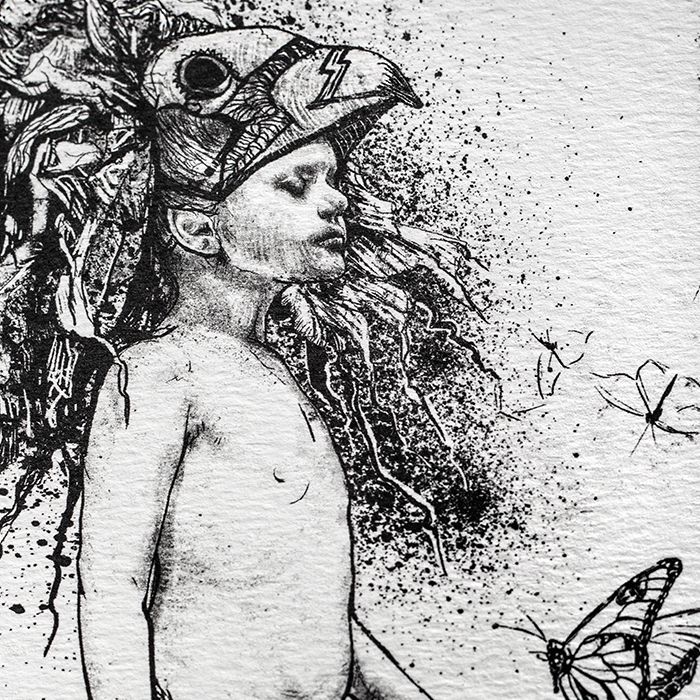 Artist MANDEM is creating a limited-edition artist book comprised of prints on cotton fiber paper, presented in a hand-decorated wooden box and accompanied by a short film on DVD.
MANDEM is the art name shared by Maize Arendsee (MFA, Studio Art) and their life-partner, Moco. With an academic background in mythology, critical theory, and gender/queer studies, MANDEM works across media and materials, intentionally destabilizing genre in terms of content and media, while exploring the visceral body, art history and religious iconography, and issues of gender and desire.
MANDEM's work has been widely exhibited and published and has received numerous juror and publication awards. In 2016, Maize is teaching art at a university in Florence, Italy, where MANDEM also has a concurrent artist residency at the Associazione Culturale Il Palmerino and multiple European art exhibitions in the works. MANDEM recently relocated to Maize's hometown of Cleveland, OH.
Maize Arendsee is a media-flexible artist working under the art name MANDEM. Currently an instructor with Florida State University, Maize will be teaching art and participating in a concurrent artist residency in Florence, Italy (spring, 2016). Maize is the recipient of the Florence Teaching Award Fellowship, the Outstanding Teaching Assistant Award (OTAA), and numerous juror awards for art. MANDEM's work is inspired by the visceral body, art history and religious iconography, and issues of gender and desire. For more on MANDEM, see www.mythpunkart.com.
Image: Allerleirauh, Thousandfurs. 2014. Mixed media painting with encaustic, oil, pigment ink, and collage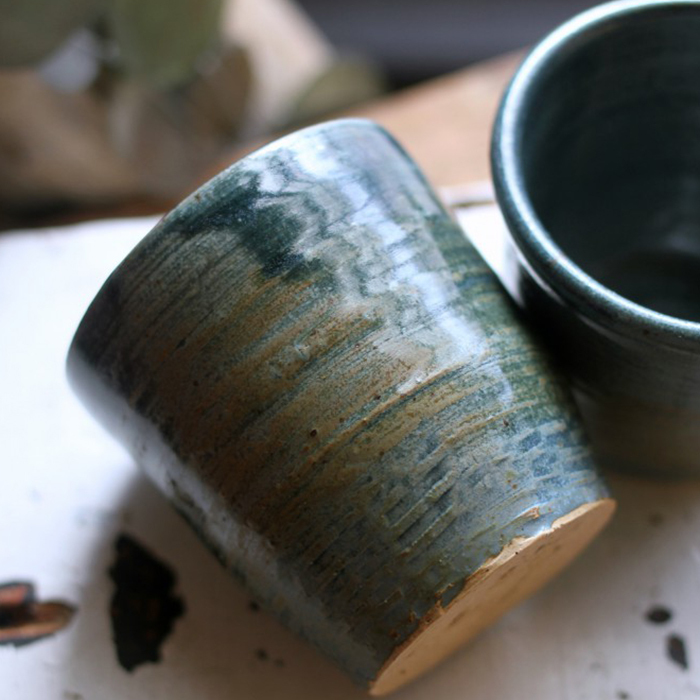 Brooke will be creating limited edition wheel thrown/hand-built recycled stoneware and glazed ceramic cups
Brooke Medlin was born and raised in Dayton. She has maintained an active studio in the city for over a decade. While metalsmithing and jewelry design remain the focus of her work and business, she has begun to add more utilitarian pieces to the mix through her recent ceramic works.
Brooke's personal aesthetic interests lean to mostly eastern European textiles, rocks or other bits of natural effluvia from her travels, and vintage Japanese pottery. Her ceramic work amalgamates these major influences into what she describes as an elevated utilitarian style. Her ceramic whiskey cups feel familiar and just right in the hand and give them a little boost by way of sumptuous glaze technique.
The simplicity of Brooke's designs reflect her motivation for creating them: to make beautiful things that stand the test of time. "I want to make pieces that I would feel incredibly lucky were I to happen upon them at an estate sale or in a thrift shop. Those are the kind of objects I buy – well-made, one of a kind, with beautiful little details that make it a great find – and that's the kind of object I want to make." For more on this artist, see www.brookemedlin.com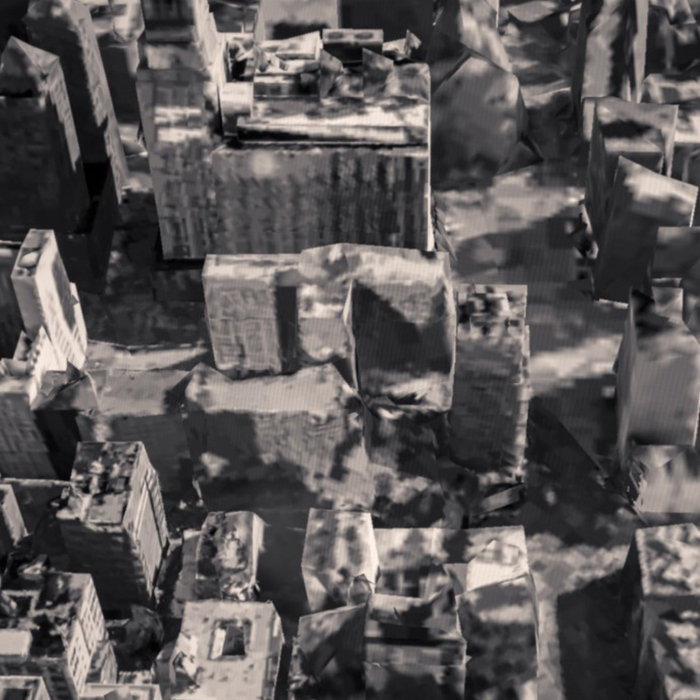 Joel will be creating a limited edition archival inkjet print.
Joel Whitaker is an artist and educator who lives in Dayton. He holds a Bachelor of Fine Art in Art from the University of Montevallo, Montevallo, Alabama and a Master of Fine Art in Studio Art from Florida State University, Tallahassee, Florida. In 1990 he held a one-year appointment as a visiting Assistant Professor at the University of Iowa, Iowa City, Iowa and in 1993 he joined the faculty of the University of Dayton, where he currently holds the rank of Professor.
He has over 20 years experience in visual arts higher education, arts administration and community service and over 30 years experience in the making of photographs and photo related works. He has remained active in photography through his teaching, ongoing study of the medium, development of photographic projects, and the pursuit of exhibition outlets. In 2009 he was one of eight Ohio photographers selected to participate in a NEH funded re-photographic survey of FSA photographs of Ohio. In 2008 his work was highlighted in the Elements of Photography, and in 2006, his work was selected for inclusion inPhotography Now/One Hundred Portfolios – An International Survey of Contemporary Photography. His work is in several public collections, has been exhibited extensively in the US, and received several state, regional, and university grants.
Of his "Invisible Cities" Series: These photographs are prompted by my interest in the representation of a place, the process of arriving at this representation, and my physical and intellectual engagement with this place and process. I am particularly interested in the ephemeral nature of structure, location, and process; physically, psychologically, photographically, and virtually. In Invisible Cities I attempt to reinvent the idea, representation, and physical form of cities and the photographs that define and describe them. The resulting photographs are as much informed by my experiences in such places as by my relationship to the physical and intellectual underpinnings of the photographic medium that serve as a record of these experiences and interactions. I consider the city and the photographic medium transitional; organic things that are constantly in flux, both physically and intellectually. For more on this artist see www.joelwhitaker.com.