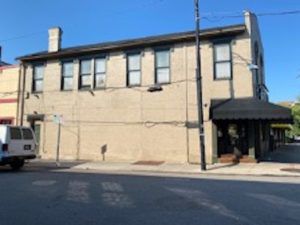 The Contemporary Dayton considers proposals from both artists and curators that expand the public's understanding of the visual arts and represent the diversity and breadth of fine art and fine craft being made today. The Contemporary Dayton's gallery space is 210 running feet and 1,810 square feet on street level in downtown Dayton's Bindery Building at 118 N. Jefferson Street, between First and Second streets.
The Contemporary Dayton is committed to providing the art community and the general public with access to artists and information about art. We present exhibitions, gallery talks, workshops, art-themed events and community collaborations featuring artists. We actively promote marketing and sales opportunities for artists and adhere to the industry standard of 60% commission split to artists.
Urban Art Intersections: Oregon Express Pizza Tavern
The Contemporary Dayton announces a Request for Qualifications for artists, artist teams, designers, or architects to design outdoor wall art for the Oregon Express Pizza Tavern.
Send the following to Cydnie King, Curatorial Assistant at [email protected] Subject Line: RFQ OE Wall Art
Reminder: This should NOT yet be a site proposal.
Please Include the Following:
Your current resume/CV (Word document or PDF)
A brief description of your qualifications to design and produce this project, including your experience working on comparable projects; and a short narrative about your desired intent for this project.
Up to 5 examples of representative work that show your ability and style as it applies to this project (ie, I would create a scene that which visitors could role-play different characters; I would create a colorful graphic design that visitors could position themselves to be at the center of, etc.). Save each as your last name and title or location of work (Example: King, Cydnie_Oregon Express Mural)
Artists/teams living within a 50-mile radius of Dayton, OH are eligible for this project.
Artists who are not muralists can still submit qualifications and designs if they partner/hire someone who is trained for the execution of murals if selected.
Those who partner/hire with a professional, must identify who they are working with for approval, or allow The Contemporary Dayton to contract their own painter.
$5,000 for design, materials, and production.
Additionally, selected finalists will be paid a $750 stipend for their proposal.
Send the following to Cydnie King, Curatorial Assistant at [email protected] Subject Line: RFQ OE Wall Art
This year, artists have the opportunity to submit to participate in The Co's traditional Holiday Gift Gallery, the 2021 Limited Edition Holiday Ornament, and the new CoSHOP. Artists receive 60% commission on sales.
ALL FINE CRAFT CONSIDERED: fiber, ceramics, glass, jewelry, wood, printmaking, 2D & 3D mixed media.
APPLICATION FEE:
Members: Free
Non-Members: $10
You may mail your fee, pay in person at the gallery, or via the link below. Please put "Call for Entry Fine Craft" in the notes section when paying online.
Questions? Email [email protected], call 937/224.3822, or come by the gallery.
All Media
If you are interested in donating, please complete an Auction Donation Form (enclosed) and either mail, email 
[email protected]

thecontemporarydayton.org
 or bring with you to Auction Art Drop-off, March 3, 4 and 6, 2021.

Artwork & Donation Form Drop-offs:
Wed, Mar 3, 12–4 p.m.
Thu, Mar 4, 4–7 p.m.
Sat, Mar 6, 10–4 p.m.
All Media
The Contemporary Dayton Members are invited to submit artwork each Summer for the Annual Members' Show. We alternate each year, presenting either an Open Members' Show or a Juried Members' Show.
Open Members' Show – all Members are invited to submit and exhibit 1 work of art for display.
Juried Members' Show – all Members are invited to submit 1-3 works, the work is juried by an arts professional, and the result is exhibited.