ABOUT THE ANNUAL ART AUCTION
As one of the biggest fundraising events of the year, The Co utilizes the money raised from their Annual Art Auction to fund future programs and events that aid in educating about the arts as well as advancing those whose work emanates from Dayton and Ohio and whose practices speak to prominent issues of our time on both the national and international level.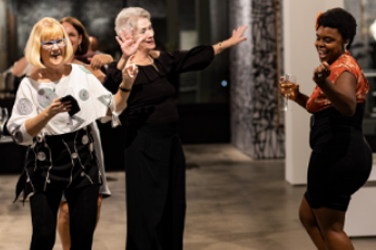 An action-packed evening in the historic Dayton Arcade Rotunda with some of the most notable artists in the region.
The Co's Galleries & the Arcade Rotunda
25 W 4th St, Dayton
Time: TBA
Dirk Kreutzer & Jessica Bott-Moradmand, Co-Chairs
Beth Adelman

 

Barbara & Dan Claudepierre
Beth DeVilbiss
Heather & Dave Hime
Mike Houser
Jo Anne & Jon Vincent
We gratefully acknowledge the 2021 Auction Sponsors (as of May 15, 2021)
CORPORATE & FOUNDATION SPONSOR
Eichelberger Foundation
PRESENTING SPONSOR
Mr. & Mrs. Rip Hale
PLATINUM LEVEL SPONSOR
Mr. Mike Houser
DIAMOND SPONSOR
Dr. Robert L. Brandt, Jr.
GOLD LEVEL SPONSORS
Elements IV Interiors
Dr. H. Todd Kepler & Mr. Dirk R. Kreutzer
Ms. Linda Lombard & Mr. Paul Marshall