ABOUT THE ANNUAL ART AUCTION
As one of the biggest fundraising events of the year, The Co utilizes the money raised from their Annual Art Auction to fund future programs and events that aid in educating about the arts as well as advancing those whose work emanates from Dayton and Ohio and whose practices speak to prominent issues of our time on both the national and international level.
On behalf of The Co's Staff, Volunteers, and Board Members, we want to say a very special THANK YOU for making our 28th Annual Art Auction a HUGE success—including all who bid on artwork virtually, our generous Sponsors, and those who donated to our mission: to provide art for the community and a community for artists.
We believe our mission was experienced this year as artists and art enthusiasts mingled under the magnificent Arcade Rotunda.
Mon–Tue, May 2–3 @ 10 a.m. – 2 p.m.
Did you attend the event? Let us know your thoughts by taking the SURVEY.
SAVE THE DATE!
FRIDAY APRIL 28, 2023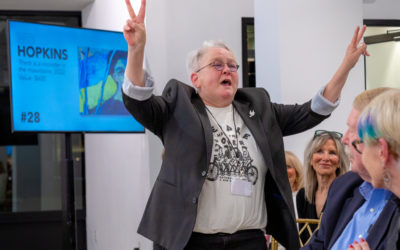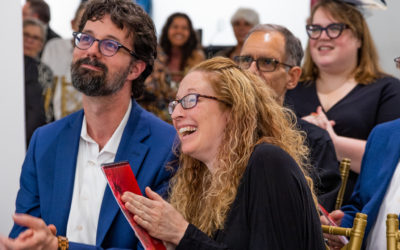 Erin Holscher Almazan
Guustie Alvarado
Pat Antonick
Bridgette Bogle
David Brand
Sarah Brashears
Virginia Burroughs
Susan Byrnes
Bruce Campbell
Rosalie Campbell
JD Claffey
Dan Cleary
John Creekmore
Jon Daugherty
Lori Daugherty
Willis "Bing" Davis
Amy Deal
Regina Dixon
Amy Dolan
Tobi Ewing
Samantha Farkas
Jeanne Rusnak Fehskens
Doug Fiely
Tracy Foskuhl
Bill Franz
Mark Freytag
Jennifer Glance
Michael Gummer
Linda Hart
Debbie Hicks
MB Hopkins
Mikee Huber
Jaclynn Jerrells
Heather Jones
Katherine Kadish
Cydnie King
Paul Laage
David Leach
Richard Malogorski
Edy Martin
Abby Maurer
Pat McClelland
Kevin McNeeley
Cathy Mong
Thu Nguyen
Thomas Paul Novak
Maureen O'Keefe
Jaime Pacheco
Marilynn Page
Sandra Picciano Brand
Linda Phillips
Judd Plattenburg
Amy Powell
David Riel
Jeremie David Riggleman
Francine Riley
Yetunde Rodriguez
Ron Rollins
Jennifer Rosengarten
Eric Roy
Francis Schanberger
Susanne Scherette King
Allyson Mushovic Shank
Ashley Simons
Dennis Simons
Andy Snow
Bruce Soifer
Nick Stamas
Barb Stork
Jo Anne Vincent
Jon Vincent
Gerard Walsh
Terry Welker
Robine Wright
Dirk Kreutzer, Chair
Beth Adelman

 

Lisa Allan
Barbara & Dan Claudepierre
Heather & Dave Hime
Mike Houser
Amanda Ricci
PRESENTING SPONSOR
Dayton Children's Hospital
MEDIA SPONSOR
Dayton Daily News
DIAMOND
LWC, Inc.
PLATINUM
Dr. Robert L. Brandt, Jr.
Coolidge Wall, LLC
University of Dayton
GOLD
Arlt & Associates
Cross Street Partners
Custom Frame Services
Heidelberg Distributing Company
Dave & Heather Hime
Houser Asphalt & Concrete
Linda Lombard & Paul Marshall
Mitosis Creative
Lee Monnin
Robert Pohl & Susan Strong
Matthew J. Scarr, CPA LLC
SILVER
Tracy Bieser (1949–2022) The Co offers heartfelt condolences to the family
Pam & Dave Denka
Happy Birthday, Jane A. Dunwoodie!
Montgomery County Commission
Ira H. & Susan P. Thomsen
BRONZE
Bernstein's Catering
Dayton LIVE
Susan DeLuca
Susie King
GRAND PATRONS
Tom & Frances Bankston
Eva Buttacavoli & Patrick Martin
Linda Caron
Susan Harris & Kenneth Seidl
Amelia Hounshell & Brian Albrecht, Element Utility Service
Stephanie & Marc Keinath
Dr. H. Todd Kelper & Dirk R. Kreutzer
Jennifer McCormick
Jessica Bott Moradmand & Kourosh Moradmand
Amanda & Sean Ricci
Betsy B. Whitney
*Sponsorships as of April 19