ART DINNER TICKET | $185
A limited number of single tickets are available
ART DINNER GROUP SEATING | $2,250
Premier table placement with seating for up to 8 guests
ART DINNER SECTION SPONSOR | $5,000
Premier table placement with seating for up to 10 guests
Special recognition in all event communications, promotions, on-site signage, and event program
Chef-selected gift for each guest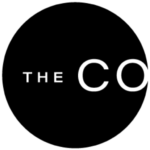 The Co's core programs including original, commissioned exhibitions by local, national, and international artists; free public programs; resources for area artists including pro bono legal services; and community art initiatives like Art in the City and the Urban Art Intersections – the City of Dayton's Mural Program.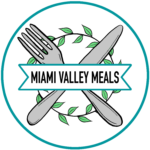 Miami Valley Meals (MVM), formerly Set the Banquet Table, recovers and transforms donated food into meals which are then distributed through a network of nonprofit partner organizations that feed the hungry. We provide nourishing meals made with love that honor the dignity of people in need.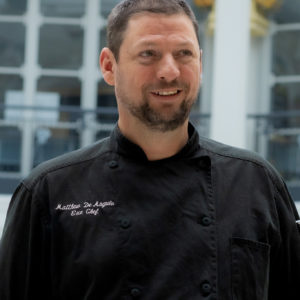 CHEF MATTHEW DeANGULO
Chef Matt DeAngulo has been ensuring that Daytonians have full hearts and full stomachs as an Executive Chef for over 20 years and nearly 40 years in the service industry. Formerly executive chef at Citilites, Chef DeAngulo has most recently been using his talents to help provide flavorful dishes to local shelters and food pantries through Miami Valley Meals. Dedicated to feeding the community in this trying time by providing fresh and thoughtful cuisine, Chef DeAngulo honors the dignity of people in need through nourishing food.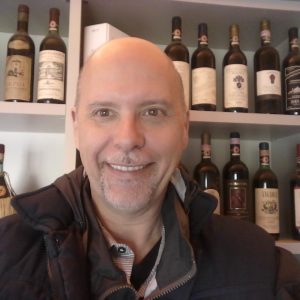 SOMMELIER BRIAN DeMARKE
Former Restaurant Consultant and member of The Court of Master Sommeliers, Brian DeMarke of Miamisburg is a master of wine and food, having served as general manager and sommelier of L'Auberge restaurant in Kettering from 2007 to 2010. Besides selling specialty wines to small retailers like Dorothy Lane Market and local restaurants, DeMarke takes his expertise to the classroom by offering classes on everything from vintage to types of wine and soils and grapes to companies and restaurant staff members.
AMUSE BOUCHE – FORAGE
A chamber vacuumed-cooked morel with salt pork foam-filled helium drippings.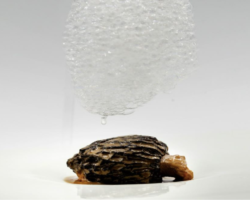 DECONSTRUCTED LOBSTER BISQUE
Butter poached lobster tail, pure corn panna cotta, fresh edamame, frisse, and tomatoes. Paired with a blue cheese beignet for dipping.